About Us
Grasser Electric Corp. is a family owned and operated electrical contractor
that has been in business since 1975!
We specialize in ALL electrical needs ranging from large scale commercial projects all the way down to simple home service needs such as replacing a bad light switch. We cover all the possible ranges in electrical service needs and can handle just about any electrical project you have in mind.
We offer FREE quotes for new projects. If you have an electrical problem or just need a quote for new work, please let us know.
Our Residential Services
(636) 441-5200
A company you can trust to respect your home and everything in it. Call us at 636-441-5200 to discuss the best option for your home.
Our Commercial Services
(636) 441-5200
Grasser Electric has been partnering with businesses for over 30 years to provide a variety of commercial electrical services in the St. Louis and St. Charles MO area.
Do you need help with
electrical maintenance?
Contact us – our technicians are ready to help!
Give Us A Call
Save $20/mo.
With ONE Simple Switch
are you spending more than you should be?
Retrofit
Your LIGHTING
for energy savings
Be
PREPARED
prepare your home for electrical emergencies
June 21, 2019
How Are We Doing?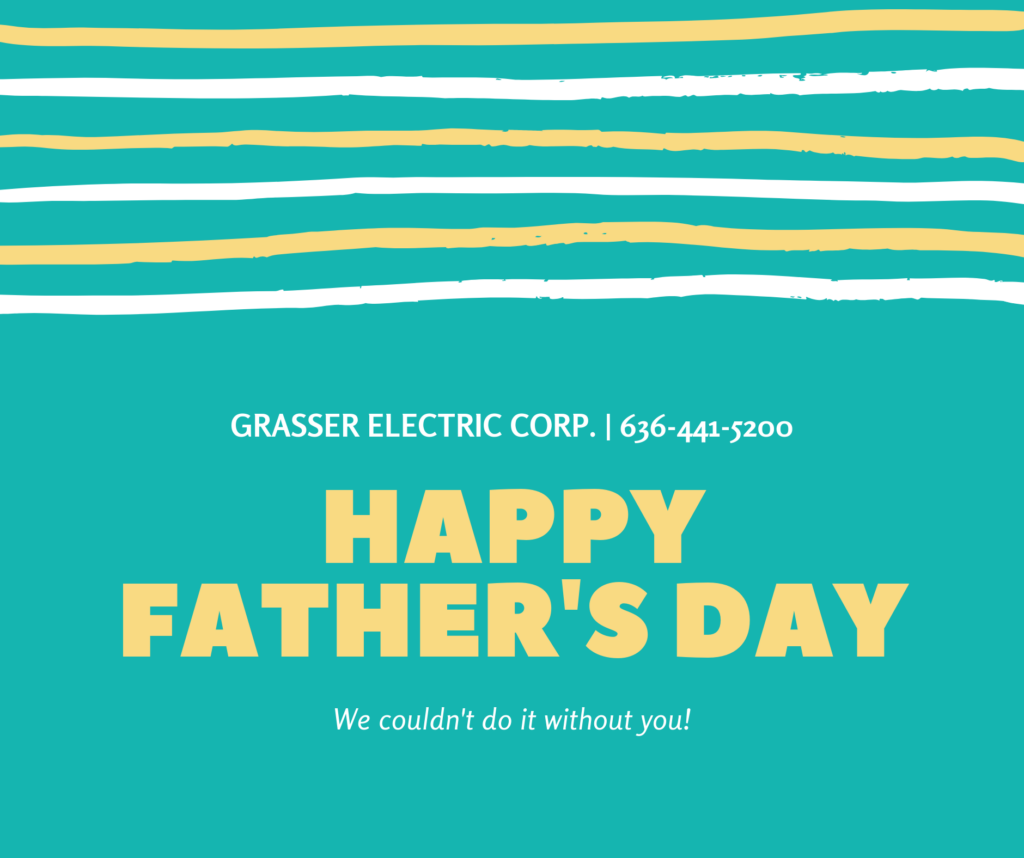 June 16, 2019
Happy Father's Day from Grasser Electric!
Thank you so much to John H and Grasser Electric for the spectacular job of installing undercabinet lighting. The cost was great, the work was top notch and the customer service was over the top. I will recommend Grasser Electric every time!
Maureen Bell
Had 8 new outlets on two circuits installed in an unfinished basement. The job was done quickly and cleanly. Would recommend.
Anthony, St. Louis, MO
Friendly people great service.
Bob, St. Peters, MO
Grasser Electric did a fantastic job on a project I had in my home. They were courteous and professional and I wouldn't hesitate to use them again.
Ben, St. Louis, MO
I would like to take this opportunity to thank you and especially your electrician Paul for the work that he completed at our home on Feb. 6th 2014. The floor outlet that he installed for us was done in a courteous, efficient and professioanl way. I have recommended your services to three other friends of ours. Thank you.
Elmer, St. Charles, MO
Thanks for making the repairs so promptly. We really appreciated that!
Clete, Wentzville, MO
Friendly, reliable company. Grasser does very good work at a very fair price. Highly recommend!!
Chad, St. Peters, MO
I made the decision to add a spotlight over my utility sink on Thursday, and the by following Monday the job was completed by Grasser just as I had envisioned. The work was professional in every respect, and within a few hours, the electrician was in and out of the house. I've used them on several occasions and will continue to do so in the future….
Marshall, Wentzville, MO
Great service….on-time, reasonable price, and helpful, friendly employees.
Vicki, St. Peters, MO